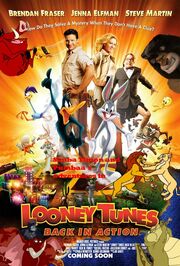 Simba, Timon, and Pumbaa's Adventures of Looney Tunes: Back in Action is another Lion King crossover film by LionKingRulezAgain1. It appeared on YouTube on 4-2-2010.
Plot
Simba and his friends go to the Warner Bros. Studios in Hollywood to reunite with Bugs Bunny and Daffy Duck as they face a new villain called Mr. Chairman (whom Makunga is working for).
Trivia
This is a PAL film with PAL bits from Madagascar and Madagascar Escape 2 Africa and NTSC bits from The Lion King movies, Tarzan, andThe Princess and the Frog.
Alex, Marty, Gloria, and Melman make a cameo in the resturaunt scene talking about Dreamworks Animation's upcoming projects.
Makunga guest stars and works with Mr. Chairman in this film.
During the movie, Timon, Pumbaa, King Julien, Maurice, Mort and Louis will team up with Daffy Duck and DJ Drake to go to Las Vegas while Simba, Nala, Terk and Tantor will team up with Bugs Bunny and Kate Houghton to find Daffy Duck.