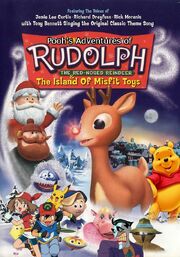 Poohs Adventures of Rudolph the Red Nosed Reindeer and the Island of Misfit Toys is a crossover made by kasaibouF29. This is a sequel to his lastest installment, Pooh's Adventures of Rudolph the Red Nose Reindeer, it was released on Feb. 25, 2010.
Plot
The Evil Toy Taker and the Joker steal toys from all over the world, even from Santa's workshop. Now it's up to Winnie the Pooh, Rudolph and all their friends Pigglet, Rabbit, Tigger, Eeyore, Hermey, Yukon Cornelius, the Abominable Snowman "Bumble", Ash and Dawn to stop them and bring Christmas to the children of the world.
Trivia
This is the still he released a week before the release date of the film.
[1]Pooh, Tigger, Rudolph and the gang about to drop to their fate?Added by PPN Chronicles* This is the first time May has been in a Poohs Adventures crossover.
Poohs Adventures of Rudolph and the Island of Misfit Toys part 1
Poohs Adventures of Rudolph and the Island of Misfit Toys part 2
Poohs Adventures of Rudolph and the Island of Misfit Toys part 3
Poohs Adventures of Rudolph and the Island of Misfit Toys part 4
Poohs Adventures of Rudolph and the Island of Misfit Toys part 5
Poohs Adventures of Rudolph and the Island of Misfit Toys part 6
Poohs Adventures of Rudolph and the Island of Misfit Toys part 7
Poohs Adventures of Rudolph and the Island of Misfit Toys part 8 (conclusion)