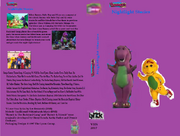 Barney's Nightlight Stories
is a custom clip show and custom Barney Home Video for Season 3. It is confused with the Blockbuster Exclusive of the same name. It is released on March 13, 1997. It uses the same musical arrangments from Season 3.
Plot
Barney, BJ, and Baby Bop campout at the school, so, Barney tells some stories about fun times he had with his friends.
Songs
Barney Theme Song
A Camping We Will Go
Once Upon a Time
London Town (taken from: Three Wishes)
Teddy Bear (taken from: Three Wishes)
Mr. Knickerbocker (taken from: Three Wishes)
Take Me Out to the Ball Game (taken from: Three Wishes)
I See the Moon (taken from: Three Wishes)
The Rocket Song (taken from: Three Wishes)
Pat-A-Cake (taken from: Three Wishes)
Medley: Jack Be Nimble, Ring Around the Rosie, London Bridge (taken from: Three Wishes)
The Rocket Song (Reprise) (taken from: Three Wishes)
Old MacDonald (taken from: Three Wishes)
Good Manners (taken from: My Favorite Things)
My Yellow Blankey (taken from: My Favorite Things)
The Sister Song (taken from: My Favorite Things)
She'll Be Coming Around the Mountain (taken from: My Favorite Things)
Three Bears Rap (taken from: My Favorite Things)
S'Mores
Lookin' Around My Neighborhood (taken from: On the Move)
Kookabura (taken from: On the Move)
The Barney Bag (taken from: On the Move)
Friendship Song (taken from: On the Move)
I Like Autumn (taken from: On the Move)
Oh, We Came Back (taken from: On the Move)
Our New School (taken from: On the Move)
Listen to the Night Time
If You're Happy and You Know It (taken from: A Camping We Will Go!)
Be Kind to Your Web-Footed Friends (taken from: A Camping We Will Go!)
Sarasponda (taken from: A Camping We Will Go!)
We Like Rocks (taken from: A Camping We Will Go!)
Little Cabin in the Forest Green (taken from: A Camping We Will Go!)
The Other Day I Met a Bear (taken from: A Camping We Will Go!)
Scary Stories (taken from: A Camping We Will Go!)
She'll Be Coming Around the Mountain (Reprise) (taken from: A Camping We Will Go!)
Rickey Racoon (taken from: A Camping We Will Go!)
I Love the Mountains (taken from: A Camping We Will Go!)
Brushing My Teeth
Bedtime with Barney
I Love You